The Milk and Honey Farm
This is but one of the emerald green pastures our sheep graze on at The Milk and Honey Farm. Just seeing it in the Spring and Summer brings back childhood visions of running and playing in beautiful lush pastures. God's creation is truly beautiful.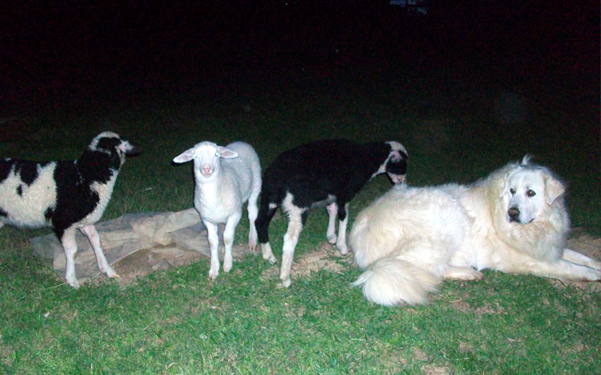 Chantilly, one of our Great Pyrenees, who is still a puppy in this picture is loyally guarding her lambs. If you aren't familiar with the Great Pyrenees, they are magnificent dogs. They will typically weigh around 100 to 125 pounds and are strong, muscular and fast. Pyrenees are extremely loyal to their owners but even more so to their sheep. They crave their owner's attention and wants lots and lots of love. At night, one patrols the borders of our property while the other stays with the sheep. Its amazing to see how they work together when they sense danger.
Look closely at the size of Chantilly at 6 months. She going to be a big one and already has a real Mothering instinct. She likes to hang out with and guard the young lambs while Snow watches over the older ewes. Chantilly seems to like to watch over all the smaller things on the farm from new born lambs to baby kittens to young chicks. Nature is a beautiful thing.
The happy hens consist of Rhode Island Reds, Black Star's, Red Stars, Cucoo Muran's, and blue/green egg laying Araucana's. The hens  supply us with healthy, great tasting fresh eggs for our family as well as our neighbors who are in need. We order day old chicks for delivery in February every two years. Our Shepherd and Farm Manager, Joe, has built us a fabulous nursery for the new chicks to stay seperated from the older girls until they are big enough to fend for themselves. Those who can afford to, donate a little to our chicken food fund so in a real way they too are helping feed the less fortunate in our area.
Here's Cindy with Snow and Belle in an un-posed picture. Lee was taking pictures of the sheep and turned around just in time to see Belle put her paw on Cindy's shoulder. This is one of Lee's favorite pictures, partly because Belle passed away in 2011. She was only 3 years old and one of the best dogs anyone could ever hope to have the privilege of owning. She was just delightful and loving but a fierce protector of her sheep.
Here's Shep visiting the sheep on a summer afternoon. While the Pyrenees guard, Shep likes to herd although the truth is he's a house dog and doesn't know much about herding. But he's a loyal friend to the point when Lee is really sick Shep won't leave his side, sleeping on the floor beside the bed and missing him terribly when he's in the hospital.
Last year we decided to put in raised garden beds to make it easier for us. We love them. Cindy researched a natural wood preservative and stained all the wood so that we wouldn't have harmful chemicals leak into our soil and vegetables. We grow a lot of vegetables along with strawberries, blueberries, raspberries, marionberries, blackberries etc. as well as fruit trees and herbs on our homestead. We continually strive to learn and improve our pastures and gardens to produce the most nutrient dense organic products.
Silver Queen corn is striving to grow in our Georgia Clay soil! Next year we will amend our soil to produce an even better crop. A farm seems to always be a work in progress! For example, we, with the help of our granddaughter Kaitlynn, built a milking parlor. Joe, our Shepherd and Farm Manager built 4 stalls for ewes and their new born babies to spend a week or so in bonding with each other. It serves both as a nursery and a medical center.
When we don't have newborns, we use the stalls for a ewe or lamb that's not feeling well and that we want to keep an eye on. There's also a section where we keep all of the food for the sheep, another section where we store hay, 2 pens where we keep our rams separate from the ewes until breeding season, a creep feeder for the baby lambs so the bigger sheep can't get to their food, a private room for the dogs and their food and another feeding area for all our barn cats.
Speaking of gardening, Lee picked tomatoes one Saturday morning and took a picture of Cindy with the day's harvest. Cindy does a lot of vegetable canning and makes and cans lots of Italian sauces. These tomatoes are for eating and giving away. We raise Roma tomatoes for canning and sauces.
Because berries love sun and require a lot of water to bear quality fruit, we decided to prepare a plot near our vegetable garden where sun was plentiful and water was in easy access. We chose varieties that matured at different times so that we always have enough lucious berries to eat, freeze, juice, or make into jams, jellies and preserves.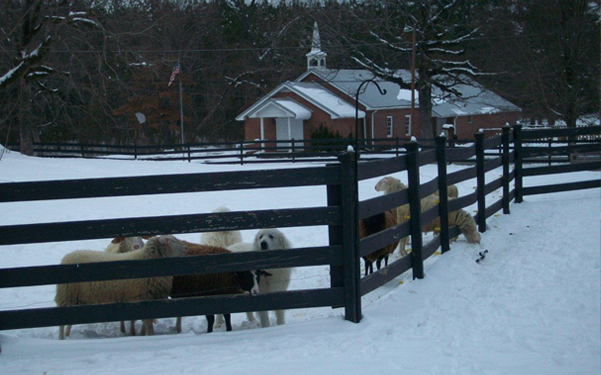 It does too snow in Georgia! That's a little Baptist Church across the street where many older members as well as the little tykes love to watch the sheep and dogs in the front pasture.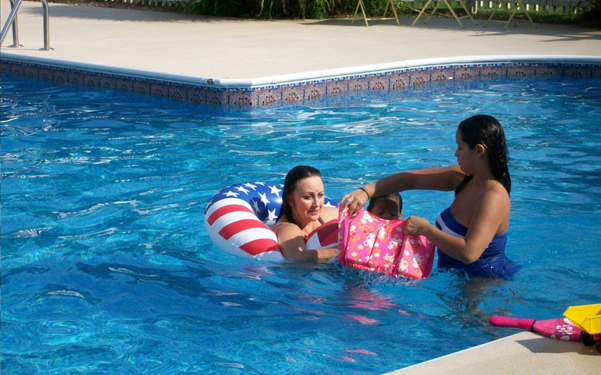 Fun time in the family pool. 3 generations playing together. Mom (Cindy), daughter (Eve) and granddaughter (Amberly). Taking it easy and enjoying life!
Grandson Trey getting ready to take the big plunge.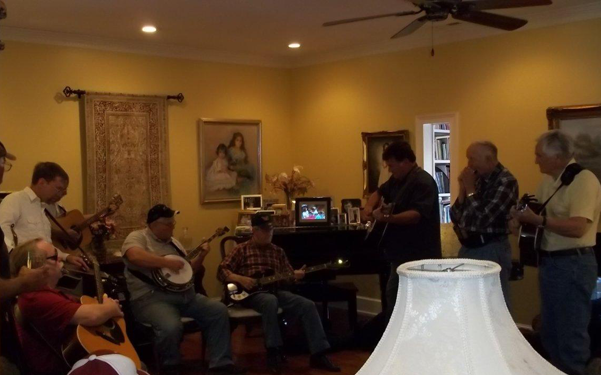 Picking and grinning on a Saturday night at The Milk and Honey Farm. Just a few friends that came over for Lee's 70th birthday. Would you believe it was his first ever birthday party? He was born on April Fool's Day and never wanted his friends to know so they wouldn't tease him.
Cindy's Mom jitterbugging at 85 years old. Only at The Milk and Honey Farm will you find something like that. She's a great Mom and Mother-In-Law. All we have to do is keep her supplied with Snickers and Ice Cream and she is happy.
By now you've probably figured it out. The Milk and Honey Farm is not a business. It's a big happy family where we all work and play together. And you are welcome to come for a visit and a tour of the farm anytime you are in the area. Just call us first (423-290-3865) to be sure we will be home to show you around.
-The Milk and Honey Farm